What happened in May 2016: socio-cultural, literary, and political news and events relating to Vietnam and to the Vietnamese diaspora. [Comments (in brackets "[ ]") are the opinion of the poster and does not reflect the view of diaCRITICS]
---
---
• Thuy Thi Nguyen becomes the first Vietnamese American president of a California community college, Foothill College.
---
• Congregants are divided by allegations concerning sexual and financial misconducts by the temple's spiritual leader.
---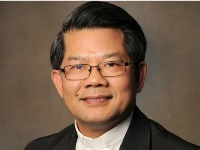 • Bishop Vincent Long Van Nguyen, a former refugee, has been appointed to lead the Australian Diocese of Parramatta.
---
• Viet Thanh Nguyen and Maxine Hong Kingston, his former professor, met to discuss writing about war and peace.
---
• Andrew Lam: "This seeming indifference to the Vietnamese struggle for true political reform while giving public lip service to human rights is damaging."
---

---
---
• Suboi raps for U.S. President Obama. See the whole speech.
---
• President Barack Obama urged Vietnam's government to ease their human rights abuses.
---
• Thailand's plan to sell its rice stockpile will mean "harsh competition" for Vietnamese rice exporters.
---
• President Barack Obama lifts the U.S. embargo on selling arms to Vietnam.
---
• With the U.S. arms embargo lifted, Vietnam will have access to the latest US military technologies and equipment to counter China's martial aggression.
---
• Vietnamese authorities interrogate Tran Thi Hong, wife of pastor Nguyen Cong Chinh, because she met with a U.S. religious freedom delegation.
---
• The Central Highlands' ethnic minority groups in Vietnam have maintain "extraordinary native architecture."
---
• Ex-US senator's role in new university opens wartime wounds due to his involvement in a massacre of civilians.
---
---
• Vietnam's developing healthcare sector provides investors and foreign healthcare businesses exciting growth opportunity.
---
• Few people understand the "so-called Southeast Asian startup ecosystem."
---
• The 26 January 2016 release of the Trans-Pacific Partnership (TPP) text is available at this site.
---
Special thanks to Viet Thanh Nguyen for providing some news items.
---
RP