diaCRITICS News & Events: February 5, 2018: news and events relating to Vietnamese at home and in the diaspora. Socio-cultural, literary, and political news and events relating to Việt Nam and to the Vietnamese diaspora.
---
---
► Prize-winning poet Ocean Vuong wins the TS Eliot prize.
---
► Family members of murdered victim Tommy Le filed a federal civil rights lawsuit against county officials.
---
► Danny Chau reflects about life and foods.
[WARNING: Do NOT view this page on an empty stomach.]
---
► Vance McElhinney reunited with his birth mother more than 40 years later.
---
► A child victim of trafficking has been ordered for deportation from England back to Vietnam.
---
► Virginia's first Vietnamese-American elected official, Kathy Tran becomes the 42nd District's representative in Virginia's House of Delegates. [From a refugee camp to public office]
---
► Bich Minh Nguyen: 1) "[It] would be easier to list what doesn't make me angry." 2) "The racism and xenophobia I experienced and witnessed in my childhood has not changed."
---
■ News from Việt Nam
---
► Vietnamese midfielder Nguyen Quang Hai tops AFC U23 top list in two matches.
VIE vs UZB: Quang Hai received 64% (139,704) of the votes.
VIE vs QAT: Quang Hai received 25% (53,970) of the votes.
Quang Hai received 88% (193,674) out of 100% of the votes.
Excited Vietnamese fans must have been the majority of voters.
---
► Formed in the early 1960s, the CBC band was popular with the U.S. troops.
---
► Vietnam and Cambodia open border market to facilitate trading.
---
► Is the Communist Party reasserting central command in a reversal of the đổi mới reforms that began in 1986 which allowed free markets and limited local democracy?
---
► Vietnamese rapper Karik and singer Orange release their new collaboration, Người Lạ Ơi! Nice!

---
---
► "We need to stop any attempt to divide Americans to 'Real Americans' and 'Less Real Americans'."
---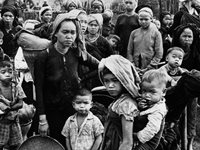 ► Mai Elliott: "The act of pacification is violent."
---
► A contributor opines that the U.S. is ignoring the lessons of Vietnam. [Is it "ignoring" or "denying"?]
---
► Frances FitzGerald's 1972 Fire in the Lake was "a prime example of Edward Said's Orientalism . . . a work of pseudoscholarship."
---
► A new documentary reveals how Dupont hid the dangers of chemical C8 found in Teflon, which has now been linked to six diseases, including testicular and kidney cancers.
---
---
► Hiep Thi Le's life could have been a movie but instead she tumbled into a career as an actress.
---
► The first Vietnamese-born Roman Catholic bishop in the U.S., Bishop Dominic Luong dies at 77.
---
Peace!
RP
SaveSave