What happened in October 2012: news and events relating to Vietnamese in Vietnam and around the world.
[before we begin: like diaCRITICS? why not subscribe? see the options to the right, via feedburner, email, and networked blogs]
I know. October was crazy. You're wondering if you'll last until your next vacation. You're wondering why there's no more giá and tương ớt. You're wondering what the phở. You're wondering what it all means. Well, stop wondering and just read on about some Vietnamese diasporic news on culture, arts, and politics.
---
• Two films will be presented at the 2012 Philadelphia Asian American Film Festival in November: Pearls of the Far East and Mr. Cao Goes to Washington.
---
Việt Kiều in the news
---
Dissident poet Nguyễn Chí Thiện, called the "Solzhenitsyn of Vietnam," died on October 2. Many of his poems are considered masterpieces. His actions in giving money to "other people who need it more" also resonate with us. Read a friend's tribute on diaCRITICS.
---
• In a five-candidate race, Tri Ta may become the first Vietnamese-American mayor in Westminster.
---
• In addition to Photographer An-My Lê recently receiving the "genius grants," two other Vietnamese Americans, Scholar Huỳnh Sanh Thông and Dr. Huỳnh Mỹ Hằng, have also been awarded The MacArthur Fellowship within the past twenty-five years.
---
• The Vietnamese American Oral History Project at the University of California, Irvine (VAOHP) launched its website containing collected oral histories of the first generation.
---
• Ten nuns from Vietnam have come to minister to the large Vietnamese community around the Resurrection of Our Lord parish in St. Louis, Missouri. Interestingly, the newly-arrived nuns are watching cartoons to supplement their English classes.
---
• Professor Lan Duong's poem, Dragon, is featured in the "angry poetry corner." Professor Duong is one of the editors of DVAN's forthcoming anthology, Southeast Asian Women in the Diaspora: Troubling Borders in Literature and Art.
---
• Vietnamese-American actor Dustin Nguyen will direct and play the lead in Viet Nam's first action-fantasy movie, "Lửa Phật."
---
• Filmmaker Steve Nguyen's animated documentary/drama Hibakusha was screened at The Japanese American National Museum. Read more about Nguyen's project and see the trailer.
---
• Vietnamese artist Tiffany Chung's exhibition, "Tomorrow Isn't Here," opened at Tyler Rollins Fine Art in New York City and ran until October 20. One of her works will be featured in the anthology Southeast Asian Women in the Diaspora: Troubling Borders in Literature and Art.
---
• The case involving the slaying of Michelle Le last year.went to trial The prosecution presented their evidences against the murder suspect, and the jury found her guilty.
---
News about Việt Nam
---
• A Vietnamese cargo ship sank off Sri Lanka; four crew members remain missing.
---
• Typhoon Son-Tinh killed three persons and injured 29 people in Vietnam.
---
• Another boat accident occurred in popular tourist site of Ha Long Bay.
---
• Two Vietnamese musicians were sentenced to prison for criticizing the government. One of the musicians was Việt Khang who wrote the patriotic songs Anh Là Ai and Việt Nam Tôi Đâu that have galvanized Việt Kiềus around the world. Trúc Hồ's petition resulted in a White House response.
---
• In another case, state police arrested and jailed a student for distributing supposedly "anti-state" leaflets.
---
• Communist Party chief Nguyen Phu Trong acknowledged that the government had failed to curb corruption. Also, several recent events may have indicated power struggles between Prime Minister Nguyen Tan Dung and President Truong Tan Sang. However, the Prime Minister seemed to have survive the leadership challenge.
---
• A Vietnamese government official noted that remittances and investments from Vietnamese living abroad reach nearly US $20 billion a year.
---
• At the ASEAN Maritime Forum, Vietnam advocated peaceful resolution concerning the current territorial disputes between Japan, China, and Korea. After the meeting, Chinese officials expressed satisfaction over its Vietnamese lackeys.
---
• Ireland has offered to help clear unexploded bombs and other explosive devices from American bombings. Also, US Ambassador to Vietnam announced a grant of $1.6 million to remove unexploded ordnance (UXO) and landmines in central Quang Binh and Quang Nam provinces.
---
• Despite the slower economic growth predicted for Vietnam and Moody's downgrading, analysts think development has been "quite good" in Vietnam. Also, Ernst & Young's seal of approval may portend good news for Vietnam's economic outlook.
---
• Sadly, though, imported Chinese-made toys are forcing Vietnamese traditional toy makers out of business.
---
• U.N. representative noted that Vietnam has made "significant" achievements in poverty reduction, but the country's poverty rate was still high among ethnic minorities communities and in Vietnam's poorest areas.
---
• Tragically, cataract remains the major cause of blindness in Vietnam, which accounts for 55-72 per cent of ophthalmic cases.
---
• Ethno-historians proposed the ethnic group Ta Mun should be recognized as Vietnam's 55th ethnic group.
---
• Xam artists performed in a free concert in an effort to revitalize the genre.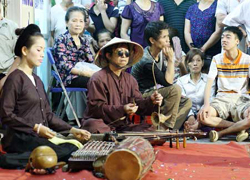 ---
• An exhibition in Hanoi on the Vietnamese custom of chewing betel and areca contains many interesting artefacts.
---
• An ex-pat's "business with heart" has been helping street children since 1999. We need more individuals like Jimmy Pham.
---
• Australian police teams donated artificial turf to orphanage in Hanoi.
---
• Not sure what to make of this news about Vietnamese girls "eager" to become Korean wives.
---
Other News
---
• Cambodian teens use art to communicate the tragedy of Cambodia's under-represented history and to raise money for their project.
---
• This is another story on Asian Americans based on the PEW study.
---
• Link between writing and schizophrenia? Well, I guess failing creative writing has its advantages after all.
---
• For those of you who already know about this, good grief, just go back to your wondering!
---
Special thanks to Julie Nguyễn and VTN for providing many of the news items.
Peace!
RP
Please take the time to rate this post (above) and share it (below). Ratings for top posts are listed on the sidebar. Sharing (on email, Facebook, etc.) helps spread the word about diaCRITICS. And join the conversation and leave a comment! Did we miss any newsworthy item? Let us know in the comments and we'll update it.