We Were Meant To Be A Gentle People (East EP) is a hybrid music-literary project, by author/songwriter Dao Strom, a 6-song EP album accompanied by a book of prose and poetry fragments, images, lyrics, and text arrangements on Vietnam – as a late-century mythology, a war, a word, an exodus, an inheritance/disinheritance. In this exclusive interview with diaCRITICS' Kim-An Lieberman, Dao Strom shares how she developed the idea for a multimedia text that re-imagines what a contemporary "book" can be. 
Have you subscribed to diaCRITICS yet? Subscribe and win prizes! Read more details.
Dao Strom's newest project, We Were Meant To Be A Gentle People, is a multimedia effort in every aspect. Incorporating poetry and prose as well as photographic images, a visually rich book comes bundled with a CD of original songs performed by Strom. Both parts echo and reinforce key motifs. Together, book and CD concoct a decidedly feminist blend of myth and autobiography that simultaneously traces the origin and migration tales of the Vietnamese people – from the prehistorical roots of Au Co to the modern history of women, mothers, and daughters in war – with the story of Strom herself travelling from Vietnam to the United States and throughout the landscape of the West Coast. Even within the printed book itself, Strom frequently plays with typography and fragmentation, using white space and unconventional punctuation to explore the visual capacities of text.
Also unconventional is the path that Strom took to creating We Were Meant To Be A Gentle People. Instead of seeking a traditional publisher as she had for earlier books, Strom worked with a small independent press, experimented with crowdsource funding, and offered a limited number of artistically handbound special editions. She finished the songs first, letting the music guide the way to the finished project. Further, she considered how the traditional expectations of a book, with rectangular pages and continuous prose, might be limiting the shape of her narrative – and then made choices to break from those expectations in order to tell the story as she envisioned it.
Strom has shared with diaCRITICS several of the ideas and thoughts that led her to create We Were Meant To Be A Gentle People. Here, she offers more specific detail on the process of making a multimedia text that breaks with bookish traditions. We are all readers in the digital age, surrounded by e-devices and a constant mishmash of electronic media fighting for attention with traditional forms of printed text. Strom offers us new ways to imagine what a contemporary "book" can be.
In your feature series for diaCRITICS, you've spoken at length about the ideas, stories, and experiences that inspired We Were Meant To Be A Gentle People. More broadly, what writers and musicians inspire your work?
Dao Strom: There are many, but in coming toward We Were Meant To Be A Gentle People, the literature of W.G. Sebald was a big influence – for his use of photographs interplayed with text, for his semi-autobiographical narratives that often involve a narrator walking through a landscape (with a history of trauma, usually), and for his addressing of the subtle darker repercussions of past events on the current culture. The poetry of H.D. spoke to me – for its deep feminine mythos, its prophetic and metaphysical qualities. Paisley Rekdal's Intimate: An American Family Photo Album is one of my favorite recent books I've encountered – for its exploration of the meeting points of cultures, text and imagery, its implications about identity and representation, for her use of the Edward Curtiss narrative and photos – which is so layered and resonant especially for myself living in this region (Pacific NW) where Curtiss spent time "documenting" Native tribes. On the music side, it runs a wide gamut, from acoustic/roots/folk to more experimental sonic textures: Gillian Welch, Emmylou Harris, Sigur Ros, Olafur Arnalds, Mogwai, Mark Kozelek, to name a few favorites.
How does composing music differ from writing poetry/prose? Or do you find the processes to be very similar?
DS: They are different – music being more visceral and physical and emotional; prose/poetry being more conceptual and cerebral, perhaps. Prose is arduous and taxing, mentally, in a way that music is not – with music I'm able to just let ideas develop as they will, even if it takes ages; I don't push it too much. Many songs I've written have happened more instinctively, spontaneously, than prose – which I tend to write and write and sculpt and cut and re-write and wrack my brains over. But I'm trying to learn how to listen to my instincts there more too. One distinguishing element for me with music is that it perhaps pushes into a more emotional, simple, also at times spiritual space – whereas prose writing can sometimes get bogged down in the content and intellect of its subject matter; it doesn't rise up to that next level. So maybe with putting the two together I'm trying to liberate myself from some of my own content, if that makes sense.
We Were Meant To Be A Gentle People is multimedia to the core, incorporating music as well as text/poetry and photographic imagery. As you got started, did one of these elements come into focus first? Why did you feel it was important to integrate all of these pieces together for this particular project?
DS: I finished the songs first actually. I had begun writing songs in relation to Vietnam/war/mythology with the ambition of making (what I've called) a "song-cycle" – essentially, a concept album; as pretentious as that sounds… I had in mind that there would be a related book too, but I was also working on a larger book – so all of that writing was going on at once. I think at first I thought it was just going to be a book of prose (text). But then I started experimenting. I learned Adobe InDesign and I took a cue from Debra DiBlasi (of Jaded Ibis Press) speaking about the future of literature, its many possibilities, the need for a totally radically different approach to narrative – in a video I viewed she spoke about how all other mediums of art (visual art notably) have evolved to address the fact of technology and our modern methods of communication/media IN THEIR FORMS, as well as in content. Meanwhile, the literary arts – this concept of the book – remains adhered to a form of black type on white pages, on rectangular sheets of paper, etc. The possibility that this is not enough to contain our many possible stories anymore is appealing to me – it speaks to me. I had been struggling with the conventional idea of a 'novel' and what 'fiction' is supposed to look like. I'd been frankly bored and frustrated by most everything I read, in terms of new literary fiction books. Hence, the attraction to hybrid forms and experimentation. I also always carry with me the advice I heard from James McPherson at the Iowa Writers Workshop: he told me that my history was an unconventional one; hence, maybe the shapes of the stories I wrote should also be unconventional. As a person of the particular background I have, I feel like this is part of my due as an artist. And maybe the multiple mediums of this project reflect something about the multiplicity of "voices" – even within oneself. So I kind of let myself loose in the process of laying out the book; I took fragments of prose from all the other writing I'd been doing, and played with their shapes and fonts and look on the page. When I just let go the idea of linearity and allowed myself to arrange the prose in fragments, it all started to make a lot more sense.
You're offering the chapbook/EP in a beautiful limited-edition hardbound format. Even the standard softbound copies are carefully shaped and crafted to fit together with the accompanying CD. As compared to your previous books, which you've published through fairly traditional channels, what did you learn from this more hands-on approach to the process of bookmaking? 
DS: I've learned a lot about taking my art into my own hands from all of this – literally and figuratively. I feel that we live in a world where the human and individual endeavor is constantly facing threat of being consumed by the machine – systems, mass production, everything turned into commodity, etc. So my small extra efforts with this particular project are my way of anchoring my art in a more soulful, hands-on approach.
During the final push to publication, you turned to crowdsource-style fundraising (via Indiegogo) to help get your project completed. Did this experience work well for you? Would you recommend crowdsourcing to other writers/musicians? 
DS: I will be frank in saying this was a very challenging thing to do, maybe especially for me, since I don't like self-promotion, am quite introverted and private, and am not especially comfortable with asking for money. It was trying on the level of putting myself out there in a position of 'need' & wondering whether or not my project would appear to have merit enough to people. I was so grateful for the support it received & also relieved when the asking period was over. I would recommend it, though, as it does foster community and it teaches artists how to advocate for themselves. It also makes us start to rely on each other – real people making, funding, sharing art – rather than staying in a mindset that believes it is necessary to look to some bigger agency in order to manifest your art in the world.
A "triangle" shape, as well as the concept of "triangulation", figures importantly throughout the chapbook. Why? What triangles or triads do you hope to highlight within the narrative? 
DS: The triangles resonate with me for reasons also esoteric to me, and hard to articulate. I want to leave it open to the viewer/reader's own interpretation… But I will cite that there is significance to triangles in certain cosmologies, esoteric and more traditional. For me, the triangle has alchemical power too (transformative, opens portals between places – nonphysical and physical). I think the shape is dynamic and there were times when I felt it should point upward, or down, and I followed those impulses. The triangle moves things, it has a more dynamic energy, I think, than for instance a square – which holds things or creates structure. I think the idea of "triangulation" also speaks to my own attempts at "triangulating" – & maybe thus making sense of – the relationships between points (be they geographical or events on a timeline) in my own & the collective history. I feel like there are patterns our experience draws across the landscape; I'm interested in trying to decipher this too.
You've mentioned that this is the first half ("East") of an intended duo (up next: "West"). Can you tell me more about your plans for Part Two?
DS: I am planning a "West" segment for this project. There are songs I've been writing that may fall into this category – more having to do with the mythos of the Western landscape: the Americas, as well our ideas of westward progress and dislocation. But I don't think I will stick to a totally literal interpretation of what West is or was – I am leaving room for the concept to take me where it will. I don't adhere the concepts of "East" and "West" to culture or history or politics alone; there is a part of me that is also philosophical about it – for instance, how can I examine them as metaphors, as duality, as poles of human experience? … I have been speaking to a small publisher, Jaded Ibis Press (the one I mentioned above), and it looks like the larger whole project will see publication somewhere down the road. I intend to explore the multimedia/ebook format more intensively in the creative period ahead.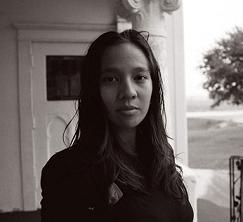 _
Kim-An Lieberman hails mostly from Seattle and holds a Ph.D. in English, specializing in Vietnamese American literature, from the University of California, Berkeley. She is the author of Breaking the Map: Poems. More info at her website.
Dao Strom is the Oregon-based author of the the novel Grass Roof, Tin Roof and the short story collection The Gentle Order of Girls and Boys. She is also a musician with two albums, Everything that Blooms Wrecks Me and Send Me Home. More info here.
Do you enjoy reading diaCRITICS? Then please consider subscribing!
Please take the time to rate this post (above) and share it (below). Ratings for top posts are listed on the sidebar. Sharing (on email, Facebook, etc.) helps spread the word about diaCRITICS. And join the conversation and leave a comment! What do you think of Dao Strom's new EP-book project? How did you find the process she underwent to develop this project?
________________________________________________________________