Born in Vietnam but raised in Germany by his adoptive parents, Philipp Rösler is now a powerful political figure in contemporary German politics. Despite his success integrating into the German society, he has been categorized as a perpetual foreigner who is in search for his homeland and identity. Using Philipp Rösler as an example, Jade Hidle examines the ethics of transnational adoption and its impact on identity perception.
Have you subscribed to diaCRITICS yet? Subscribe and win prizes! Read more details.
Germany is weird. At least in the ways that it occupies many strange pockets of popular American consciousness. In contemporary pop culture, Germany is depicted as a mire of death-sex-poop and Germans the mean walking, talking (heavily accented, of course) caricatures of that sludge. Perhaps this is our way of dealing with history, of exercising the need to simultaneously cringe and laugh at a place and a people that we ironically criticize for having the word "schadenfreude" for encapsulating that very impulse to take pleasure in the misfortunes of others. In any case, the weird German pops up everywhere.
On Community, schadenfreude-obsessed German foreign exchange students were hell-bent on defeating the main character in foosball. Craig Ferguson does a regular Kraftwerk bit in which he dons skin-tight black clothing, à la Mike Myers in the Saturday Night Live skit "Sprockets." The disconcerting tethering of sex and shame was also captured in one of my favorite segments on Loveline, during which listeners called in with unsettling bizarre sex stories and the former co-host Adam Carolla would guess if it took place in Germany or Florida—apparently the two most depraved, perverse locations in the world. And it doesn't help Germany's case that whacky headlines continue to emerge from the land of lederhosen and beer gardens. Just this week, a barn explosion in Rasdorf was reported as resulting from a buildup of methane from cow flatulence. Cow fart explosions? What is up with Germany?
The past year was no exception to Germany catching flack from American media. On a recent episode of one of my new favorite shows, The Blacklist, James Spader, who continues to be simultaneously horrifying yet knee-weakeningly attractive (Is that just me? Please tell me it's not just me.), was presented with access to Deutsch technology that reassembled shredded documents and then joked, "Ah, the Germans. Despite the headlines, they're still the best at keeping eye on their fellow man." This was a topical jab at Germany's Chancellor, Angela Merkel, who at the end of 2013 was involved in an NSA surveillance debacle, wherein she claimed that the U.S.'s surveillance of Germany—and, allegedly, her own cell phone—was straining their political and economic ties. This led to SNL skits in which Merkel cozied up to Obama.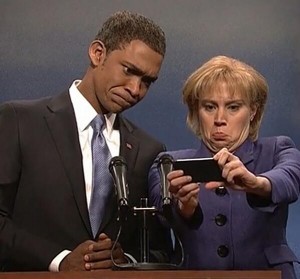 Germany, though, faced its own internal issues with transparency. Members of Merkel's cabinet were openly criticized:  education minister Schavan stripped of her doctoral degree for plagiarism and defense minister Maiziere for involvement with drone-building. In response to these ongoing debates about transparency on both sides, former Vice Chancellor Philipp Rösler critiqued the U.S. for its surveillance's strain on relations with Germany.  Outspoken as he has been on the issue, Rösler has been a powerful figure in German politics as of late. Along with being Mad Men-sleek handsome, Rösler and his take-care-of-business work ethic fly in the face of the image of Germans as secretive, schadenfreude-obsessed, sexually perverse, cow fart-loving weirdos.
Rösler ended his term as Vice Chancellor in December of 2013, as well as his position as the chairman of Germany's Free Democratic Party (FDP), long allied with Merkel's conservatives, after receiving the lowest number of votes in years. In 2011, Rösler garnered attention when he became chair of the FDP when only 38, and election to the Federal Minister of Economics and Technology and the Vice Chancellor of Germany, especially given that Germany has one of the strongest economies in the European Union. In 2009, he also served as Minister of Health, as he holds a doctorate in cardio-thoracic-vascular surgery and served a medical officer in the German military. (Fancy!)
Most pertinent to the faithful diacritics reader is that Rösler is of Vietnamese heritage. Born in Viet Nam in 1973 (though his exact birthdate is unknown, as are many from Viet Nam), Rösler was placed in an orphanage until he was adopted by a German couple while he was still an infant. Reportedly, his adoptive father was compelled to adopt a Vietnamese child after being informed of all of the children who had been abandoned during the war. Then, and throughout the ensuing years, adoption from Viet Nam has been controversial. Some have opposed adoption, perceiving it as taking children away from Vietnamese culture, as a continued intrusion upon Viet Nam. Proponents of international adoption, on the other hand, have seen it as providing the children more opportunities than those available in Vietnamese orphanages. The impacts on the adoptees have proven to be equally ambivalent. Tammy Nguyen Lee's documentary about the Operation Babylift children features interviews with the adoptees, who at once express gratitude for the opportunities afforded to them by life in the U.S. yet also frustration with isolation, discrimination, displacement, and cultural disconnection.
These conflicts raise questions:  What is lost and gained through adoption? What are the ethics of transnational adoption? Enacted shortly after, but of course not because of, the Jolie-Pitts adopted a son she named Pax Thien, transnational adoptions from Viet Nam were suspended and still remain to be so.
Questions of what will happen with adoptions from Viet Nam continue to manifest for those adopted decades ago, like Rösler. When he travelled to Vietnam to promote the growth of German business in the country and to extend welcome to Vietnamese businesses in Germany, many interviews exhibited an insistence on Rösler's Vietnameseness and, subsequently, Rösler's irritation with such an imposition. For instance, in an interview with Der Spiegel, Rösler stated, "I am visiting Vietnam as the economic minister, as a representative of German business. I'm not on a personal search for traces of my past." When posed a follow-up question about whether or not he learned any of the Vietnamese language for his trip to Viet Nam, Rösler responded, "That would be insincere. To say it clearly once again—naturally I am tied to the country through a part of my life story, but I am traveling to Vietnam as the German economics minister." Not only is the interviewer's insistence on Rösler claiming a Vietnamese identity, or at least a longing for it, a reinforcement of Asians as perpetual foreigners, but these repeated inquiries suggest a pathologization of adopted Vietnamese children in particular as tragically fragmented and forever in search of a lost homeland and identity. Reuters' report lamented, "He doesn't even know his real birth date."
In all of my research on Rösler, he has maintained a firm position on his German identity. In 2012, he stated that if he were to go in search of the origins that many interviewers insist upon, "it would create the impression I am lacking something. I have never lacked anything. Germany is my home, Vietnam a part of my life I don't remember" (Reuters). Rösler praises Germany for the opportunities it offers those of foreign background, though he has encountered prejudice. In some areas of Germany, notably in the former East, he has been the target of racism, referred to as a "Jap" or "Chinaman", according to party colleagues (Reuters). Indeed, a Google image search of Rösler returns doctored pictures whose exaggerated, animalistic features are reminiscent of racist anti-Asian propaganda against the Chinese, Japanese, and other Asian groups throughout history.
Given Germany's history with racism and its ongoing debates revolving around immigration and racial and religious tolerance, the media seemed particularly preoccupied with Rösler's race. One incident involving another politician referring to Rösler's Asian appearance raised issues of Asians being categorized phenotypically and perceived as perpetual foreigners. Most of the attention to overseas Vietnamese centers on those in the largest concentration outside of Viet Nam in Southern California and around the Gulf of Mexico in Texas and Louisiana, but there are substantial, and increasing, numbers of Vietnamese worldwide. Up to 100,000 Vietnamese have been documented as living in Germany. Kien Nghi Ha's previous diacritics two-part post offers an interesting elaboration upon how the political divide between East and West Germany influenced the German reception of Vietnamese refugees to after the U.S.-Viet Nam war, and the current cultural developments in Vietnamese communities in Deutschland.  Of those thousands, Olympic gymnast Marcel Nguyen is, of course, our favorite of all Vietnamese Germans.
Now that his term as Vice Chancellor has come to an end, Vietnamese German Rösler will now be serving as the Managing Director of The World Economic Forum. It will be interesting to see what Rösler continues to do on the global stage. Don't let the farting cows mess up your perfect hair, Doktor Rösler.
–
Jade Hidle is a Vietnamese-Irish-Norwegian writer and educator. She holds an MFA in creative writing from CSU Long Beach and is working on a PhD in literature at UC San Diego. Her work has appeared in Spot Lit, Word River, and Beside the City of Angels.
Do you enjoy reading diaCRITICS? Then please consider subscribing!
Please take the time to share this post. Sharing (on email, Facebook, etc.) helps spread the word about diaCRITICS. Join the conversation and leave a comment! What is lost and gained through adoption? What are the ethics of transnational adoption?