What happened in October 2014: Socio-cultural, literary, and political news and events relating to Viet nam and to the Vietnamese diaspora.
---
Events
---
• The Archaeological Institute of America's Art & Architecture of Vietnam & Cambodia (land tour) starts in November 2014.
---
• VIETNAM: ELI Youth Initiative at Idealist Fair in various cities from November 3 to 12.
---
Viet Kieu in the news
---
• Nurse Nina Pham is Ebola-free and is released from an NIH hospital to return home. [NPR]
---
• The Vietnamese authorities freed Nguyen Van Hai, a prominent blogger and dissident, from jailed. RFA interviews the blogger.
---
• The Xe Do Hoang bus line helps maintain family ties by shuttling people between Little Saigon and San jose.
---
• Vietnam War photographer, Le Minh Thai, dies at 93.
---
• 'Stalker' co-star Maggie Q prefers privacy.
---
• The money laundering investigation in Westminster may involve campaign donors.
---
• Cohost of The Real, Jeannie Mai, talks candidly about "controversial and sensitive topics."
---

---
News about Viet Nam
---
• Majority of Vietnamese are optimistic about their children's economic future.
---
• The success of the failing Vietnamese educational system will depend on the talents of the thousands of returning students from study abroad.
---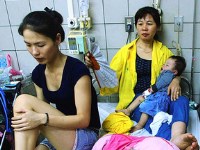 • The health-care system, which is dependent on "out of pocket" payments, is not providing proper health care to petients.
---
• Catholics in Vietnam held a protest demanding the return of church land that was seized by government officials.
---
• Six members of a gang are arrested for human trafficking of 147 poor women to China and South Korea.
---
• Through the efforts of educational campaigns, the demand for rhino horns has drop by more than 33% since last year.
---
• A Vietnamese fishing boat is attacked by a Chinese Surveillance Ship near the disputed Paracel islands.
---
Other News
---
• The Vietnam War was "a political crime that should be recorded as such in history books." [Wasn't it more than a "political crime"? Wasn't it actually a "war crime"?]
---
Special thanks to Viet Thanh Nguyen for providing many of the news items.
Peace!
RP