Five years ago, I was introduced to the music of Michael Nhat, and I covered a performance promoting his album Swimming to Cambodia. On the eve of his new full-length release, Heads on Sticks, I am pleased to see that Nhat is entering a new phase of his artistry. Nhat uses his own brand of hip-hop to contribute his unique musical experiments and his important socially conscious messages. Nhat continues to experiment with aural landscapes by setting his beats to tones and timbres that evoke what sounds like swarms of bees and birds flying, metal touching, and whimsical lilt of carousel music, which will sometimes hit the ear in an unsettling way (appropriately, I think). More intriguing, though, is how his lyrics tackle serious social issues of suicide and the struggles of Vietnamese American identity.
Nhat unapologetically confronts the larger social context surrounding his personal background as an orphan survivor of the U.S. war in Viet Nam. In "The Racism I Go Through," Nhat cuts through today's oftentimes evasive and murky racial discourse by posing the question, "It's 2014 and people are still this dumb? Fuck me!" (Nhat's line perfectly captures my thought every time I turn on the news lately.) This turns into the song's refrain, "Fuck you!" Some may dismiss the expletives as simple or vulgar, but this is not the gratuitous f-bomb that Degrassi Drake drops to sound hard. This "fuck you" is, as addressed in the song, a way to overcome the expectation of Asians to not express themselves. Nhat shows his listeners that it is okay for Asian Americans to express their anger in a society that subdues them by imposing model minority stereotypes. Nhat's lyrics outline those preconceived notions of being "ugly" and a "nerd," "eat[ing] rice every day," being unable to speak English, and, of course, having small penises. Nhat breaks down these silencing categories and asks to be heard.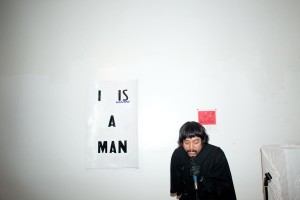 Whereas "The Racism I Go Through" traces contemporary anti-Asian racism, "Jesus Was a Gook," roots Nhat's racial struggles in the history of the U.S.-Viet Nam War. The provocative title alone incites us to reevaluate the ways in which we perpetuate histories of marginalization, as the chorus echoes the line, "Jesus was a gook and an activist." Although the song often feels like a one-sided condemnation of the military (of course, it wasn't so simple), the song is ambitious and commendable for unearthing what American history wants to forget. He foregrounds the My Lai Massacre of mostly women and children, names the war a "genocide" and "a cover up to the world of American soldiers raping the Vietnamese girl." I admire how Nhat fights against this systematic forgetting to proclaim, "You can't fucking bury me." Coming from a Vietnamese family that cloaks a lot of things in silence, I appreciate Nhat's approach to music as a living history and his honesty in laying bare its ongoing traumas. Nhat reassures me to be honest in my own work.
Likewise, "I Tried Suicide When I Was 21" delves into Nhat's personal history, offering the narrative lyrics that set his apart from many other hip-hop artists. The electronic repetition of the word "suicide" forces you to face the sadly prevalent issue that does not get discussed enough. Some of the other songs on the album did not strike me, but these three alone make it worthwhile to check out Heads on Sticks.
Full disclosure: I like 2Chainz. And T.I. And Juicy J. As a life-long hip-hop fan going back all the way to Run DMC and NWA (I can't wait for the Straight Outta Compton movie), I find myself enjoying some of today's radio anthems. But that's not to say I'm not craving songs that provide more substance to the genre. I, and many others, lauded Kendrick Lamar for his last album, To Pimp a Butterfly, for its social messages and exploratory samplings that exceeded the bounds of radio-friendly pop singles. But Lamar is not the only one peeling away the veneer of mainstream rap. Nhat is out there too, forging a path for hip-hop fans and Vietnamese American artists alike.
If you are interested in witnessing Nhat's talents, his all-ages record release party will take place on Friday, August 7th, at The Smell in Downtown Los Angeles, with a cover of only $5 (can't get that many places in LA anymore). You can find more information about the album at Nhat's website and his Spotify page.