DANIEL CARROLL WINS IN OUR SUBSCRIBER DRIVE! diaCRITICS wants to add 100 new subscribers! The 5th, 40th, 75th, and 100th subscribers (and those who referred them) get their pick of prizes. Daniel Carroll is our 40th subscriber. He wins a signed first edition of Viet Thanh Nguyen's The Sympathizer. In addition, because Nguyen Qui Duc referred Daniel to diaCRITICS, Duc also wins a signed first edition. Check out Duc's bar tadioto if you are ever in Hanoi. It's easily the hippest bar in the city. 
If you enjoy reading our posts as much as Daniel does, then we encourage you to subscribe! We are well on our way to our 75th new subscriber.
 Have you subscribed to diaCRITICS yet? Subscribe and win prizes! Read more details.
 A little more information about Daniel Carroll comes below.            
Daniel Carroll
Normally we ask our winners where they are from and what their favorite work of Vietnamese or diasporic art is, but Daniel responded in his own fashion. 
Tell us about yourself?
Daniel Carroll , Main Street, outside Melbourne Australia, coming up for the 60 plus birthday, bookseller for the last 25 years
Why Vietnam or Southeast Asia?
For three months last year I followed Robert Capa's last assignment (check out mr Capa on mr and mrs google ) from Japan to Hanoi to Luang Prabang in Laos back to Hanoi and Thai Binh, where on May 25 1954, Capa stepped on a landmine photographing French troops and died within minutes. I'm still researching and plan a return visit later this year with a short play and a book to write.
Here is Capa in a bathtub in Washington DC, 1942, photo by Myron Davis. It was his morning ritual. Capa was waiting for accreditation to get to Europe, where he went on to create lasting graphic poignant loving terrifying photographs.
In late November 2014 I spent three weeks in Luang Prabang. Capa was there for a few days just after the monumental battle of Dien Bien Phu. He photographed wounded french troops and prisoners been released by the Vietnamese and some wonderful photos of Laos life and culture. So for the first time in weeks in the nice hotel I stayed in had this bath…
I decided to try and recreate the Washington bathtub scene for fun. That's me in the tub reading Amnesia by Peter Carey.
And Vietnamese art?
I am not an artist but certainly an interested observer and a would be photographer. In November and December last year Hanoi was alive with contemporary art shows music pop jazz and classical in all sorts of spaces and times. I used to buy the Viet Nam News the English daily every day at a stand near st Joseph's cathedral good interesting coverage of the arts. So, some pix and stories…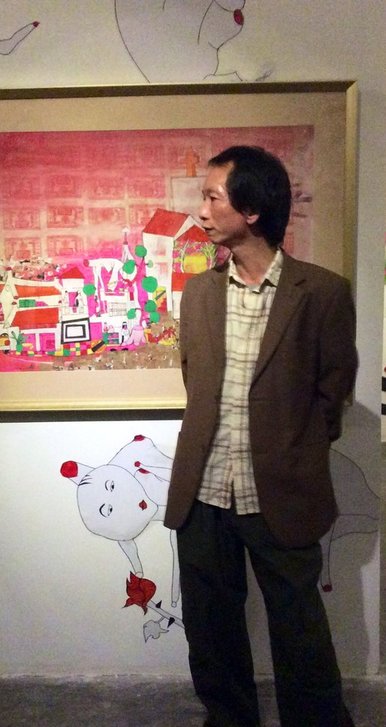 Each of these exhibitions were alive exciting challenging and beautiful and there were many others I saw and enjoyed. It would seem to me Hanoi art music literature is thriving albeit under situations and circumstances politically socially I don't fully understand but it's happening. Look at the protests about the tree being cut down. Small steps forward. I loved my time in Hanoi and again soon I hope….
Thanks, Daniel!
Do you enjoy reading diaCRITICS? Then please consider subscribing!
Please take the time to rate this post (above) and share it (below). Ratings for top posts are listed on the sidebar. Sharing (on email, Facebook, etc.) helps spread the word about diaCRITICS. And join the conversation and leave a comment!