Monthly Archives: February 2018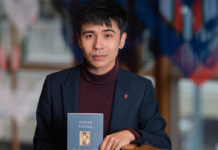 Socio-cultural, literary, and political news and events relating to Việt Nam and to the Vietnamese diaspora. Prize-winning poet Ocean Vuong wins the TS Eliot prize, and more news.
We are inheritors. Of water. Of land. Of memories. Of histories we do not always choose. Of ancestors. Of ghosts. Of grief. Of ghosts of ancestors, culture, memory, trauma. We are inheritors of stories. Of arrivals and escapes. Of flight. ...