diaCRITICS highlights artists of the Vietnamese diaspora.
---
MyLoan Dinh
Art of Struggle, Feb 1-28,2018 at Elder Gallery of Contemporary Art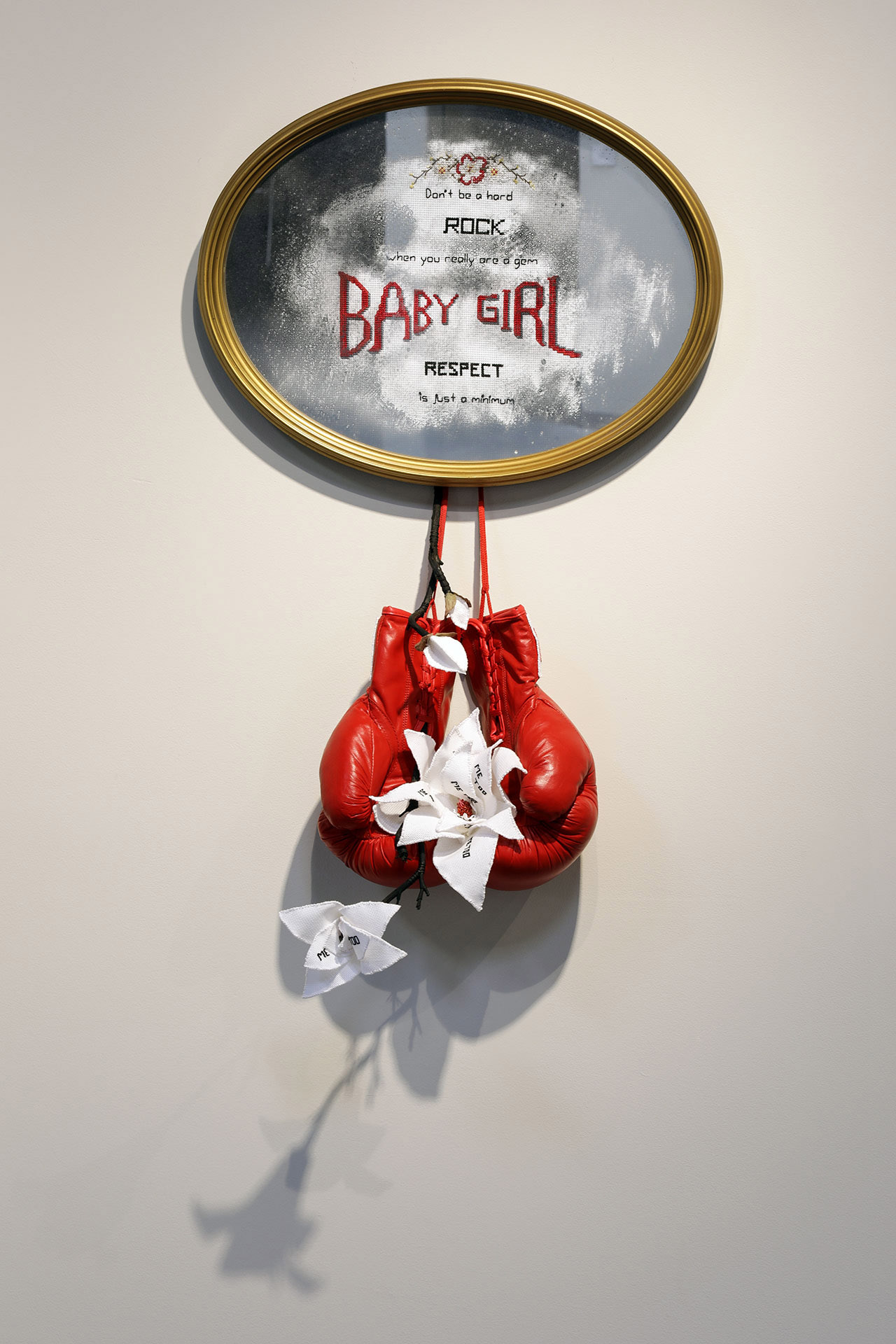 About the Artist
MyLoan Dinh was born in Saigon, Vietnam. During the fall of Saigon on April 30, 1975, she and her family fled by sea to refugee camps in Subic Bay, Wake Island and eventually to Camp Pendleton, California. From there, the family immigrated to Boone, settling in Charlotte, North Carolina. Dinh studied at the University of North Carolina in Chapel Hill and majored in visual arts at the School of Arts and Design at Wollongong University New South Wales, Australia. Her creative talents led to designing and creating costumes and sets for professional dance and theatre for over a decade. In 2008, she returned to painting and renewed her focus on visual arts projects. Dinh has exhibited internationally and her work is found in private collections in the United States, Germany, Switzerland and Turkey. Recent awards/grants include: Arts & Science Council Regional Artist Project Grant (Charlotte, NC), Department of Arts and Culture, Berlin (Treptow-Köpenick) Artist Grant, Partnership for Democracy (Berlin) Project Grant and the Arts and Science Council Culture Visions Grant (collaboration with Moving Poets). She is a member of the Asian American Women Artists Association (AAWAA) and the Professional Association of Visual Artists Berlin (BBK). Dinh is the founder of an evolving international creative project: We See Heaven Upside Down which was launched in Berlin (2016). She and her husband, Till Schmidt-Rimpler, founder and artistic director of Moving Poets, have creative projects in the USA and Berlin, Germany.
The boxing glove series represents the struggle for racial and gender equality. Through my alteration of the gloves with the use of delicate eggshells and embroidery, these objects of violence are taken out of their normal context or function and pack a different kind of punch.
El tiempo de la gente hermosa: Time of the Beautiful People is part of a series inspired by the Border Network for Human Rights project, Hugs Not Walls. For just one day, hundreds of immigrant families living in the U.S. were permitted to temporarily reunite with loved ones along the U.S.-Mexico border in the middle of the riverbed of the Rio Grande, a river between the two countries. Families had only four minutes to hug, to feel and kiss loved ones they had not seen in years. The paintings seek to capture facets of our humanity: the desire to love and be loved, the value of being in the moment and the fleeting minutes of an emotional embrace and what we feel – joy, love, relief, sadness, grief, longing…
"My studio work develops through a contemplative process where intuition, curiosity, reflection and will take turns in determining the outcome.  From nuanced detail to large brush strokes, drips and smears, I explore the relationship between form, color and surface, especially in terms of how they interact with and inter depend on one another. It is a subtle provocation to ruminate and reflect on the fundamental relationship between the particular and the whole. I am a painter, but my creative work goes beyond the canvas. Influenced by theatre, music, literature, photography, dance and movement, my work over the past 25 years has drawn inspiration from these disciplines."
website: www.myloandinh.com and www.movingpoets.org (co-founder of Moving Poets Berlin)
.
.
.
CURRENT SHOW:
Art of Struggle, Feb 1-28,2018 at Elder Gallery of Contemporary Art
.
.
[Editor: DS]
SaveSaveSaveSaveSaveSaveSaveSaveSaveSaveSaveSave
SaveSave
SaveSave