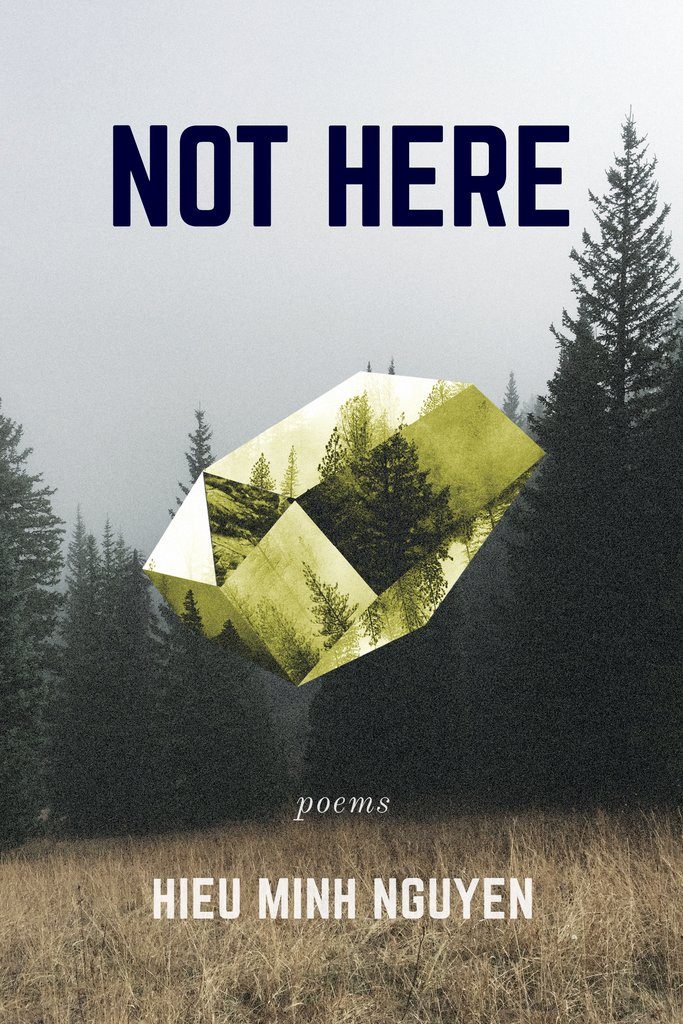 Oh, but why am I here?
It seems important to mention all the things

that went wrong:
"White Boy Time Machine: Instruction Manual"
To recognize suffering is the first sign of healing, and the poems of Hieu Minh Nguyen's most recent book Not Here, published by Coffee House Press, does just that. Through a labyrinth of lyrical ironies we are led on a path of healing, a revealing of the poignancy of absence and the power of words to make the invisible visible.
Nguyen's first poem "White Boy Time Machine: Instruction Manual" sets the scene and encapsulates the sense of loneliness and isolation one can experience not just without people, but also among people – the circumference of excruciating spaces around and between them. The poetic language, stylistic forms, and symbols used by Nguyen throughout this collection reflect the emotional and spatial relationship of the speaker's experience of alienation and marginalization as a young, Vietnamese American, gay male, survivor and son of war refugees in the Midwest.
In Not Here the word "and" is substituted exclusively with an ampersand (&), which in itself is a symbol of two letters combined (e and t). This textual slight-of-hand depicts the complexity of being a Vietnamese American, and thus becomes a symbol of displacement and dualities – the bilingual construction of an "other" that is not entirely un-familiar. Nguyen continues this tension of conjunctions and contrasts throughout his reoccurring "White Boy Time Machine" poems (between the human and the unhuman; feeling and unfeeling) through the humming, generic coldness of the white boy time machine and the ethereal pyre of bodies of ash and blood that are, like the speaker of the poems, struggling to be "whole & not a vision with missing limbs."("Type II")
The most exquisite and fierce of Nguyen's poems, "White Boy Time Machine: Software" is a perfect collision of the themes of the collection itself: the heteronormative, capitalistic consumption and disposal of bodies; sexuality as a commodity to be bartered and exploited; the condoned violence of exoticism; dangers of homophobia outside and within Vietnamese culture; ambiguous ancestry and inherited loss; historical and cyclical abuse of whiteness; childhood trauma and suicide; hope-ful/less-ness and healing. The poem's form – a stream-of-consciousness montage separated by backslashes – resembles the immediacy of the body's breath and unacknowledged barriers of assimilation and sexuality, further mirroring the segregating Minnesota landscape and intolerant and intolerable straddling within Vietnamese American families. Like a View-Master, the poem narrates in fragmented still lifes:
"why did you bring me here? / i ask / the machine / has a machine family / who assumes I've rigged their boy / to do what i want / by feeding him / a coin / fashioned with a string / a yo-yo organ / is what the doctors called it / when my grandmother's heart fell out of place / & did not return / return to its country whole / but who ever does / after leaving / the dinner where his parents tick-ticked boring questions at me / but where are you really from? / yesterday is the wrong answer, tomorrow too / despite memory, i believe / in hunger / as a way to pass time / i count the hornets that escape their mouths / for years i lay there & pressed / an ear against the humming / the humming i once mistook for static / until the stingers / rose from metal water i hear my skin sing / in a frequency made only from laughter / when told you speak so well / an aubade that calls to me like a grandfather / clock / the machine reassures me that i have nothing / to prove / i am who they think i am / i lace the corset, tight / blend a decimated village into the hollows / of my cheeks / a dirt burlesque / a virus that breached a fire / wall of family portraits / darkening before the embers / tear through / my future / a year composed of bleached wires / where the rain clouds travel back & forth / on a clothesline / i hang his skin / to dry / i laid / his organs on a bed of rice"
As one continues to read Not Here it is impossible to ignore the strength and maturity of Nguyen's poetic voice, now bolder and more confident than in his previous book This Way to the Sugar. Nguyen has become a luthier, mastering the art of hollowness, fashioning poetic instruments that skillfully carve emotional space in his readers, where empathy and the strikingly beautiful music of his poetry can resound.
The most resonant example of this "carving" can be experienced in the speaker's relationship with his mother, and demonstrates how we, as Vietnamese refugees, inherit the fear and language of suffering from our parents that can sometimes be vicious and unforgiving, and how our parents' words can cut our bodies like bamboo. The pugilistic shell of Nguyen's poetry is firm yet fragile like a violin's, and captures the bitter contradictions of a mother's desire to control and her instinct to protect, while unable to not hurt her child in need. In Nguyen's poem "Changeling" he writes:
                "My mother tells me she is ugly in the same voice
she used to say no woman could ever love you & I watch her
pull at her body & it is mine. My heavy breast.
My disappointing shape. She asks for a bowl of plain broth
& it becomes the cup of vinegar she would pour down my throat."
The inseparable dissonance of the mother's voice is translated into an emotional meaning, a cultural tone that is oppressive and harsh in its honesty, which reverberates throughout both of Nguyen's poetry collections.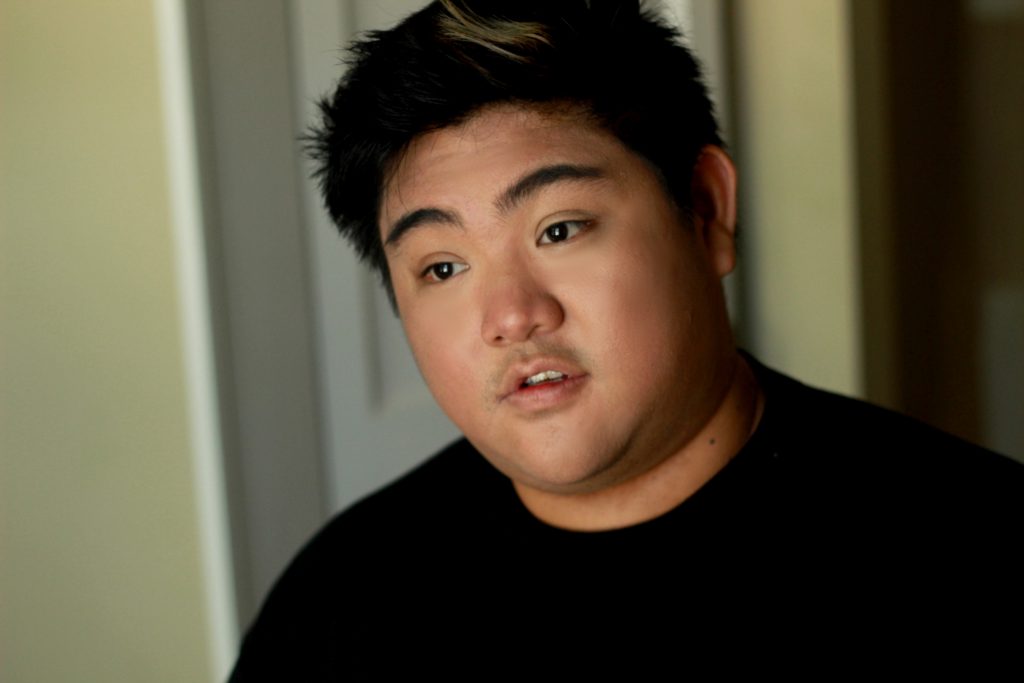 On a similar note, one of Nguyen's most remarkable gifts, aside from his harmonious arrangements of provocatively ugly language and stunningly gorgeous imagery, is his chilling comprehension of cruelty. Nguyen courageously does not feign ignorance or denial, and his speaker's ability to pointedly describe the threat of being gay and Vietnamese, the horribleness of his mother, and especially capture the "felt sense and subtle imprints of trauma"* of having been molested and the irrational triggers brought upon by singular details – like a dissociated body – removed from a complete memory, is breathtaking. For example in "Again, Let Me Explain Again":
"…I want to be better
at lying, or at least, for heaven's sake, feel a strand
of hair graze my arm without the world around me
turning into an empty classroom, an endless row
of desks, a woman swaying at the end, her face pressed
against the chalkboard, but let me start the story over
for someone once told me that 'touch' is too soft
a word to describe what happened to me…"
Nguyen's poems brilliantly replay the nightmare of how all traumas are connected; how one trauma leads to another and another and another; and how the abused body, when separate from the self, becomes a possession sometimes precious and sometimes despised, can self-destruct and cease its desire to live.
Unlike the title of Nguyen's book, "Not Here," his poetry is very much immediate and alive. And like spirits that cannot be seen but sensed, his words will pass through generations like blood. As a reader, I honor his shadow – a haunting outline, although greater than mine, is still painfully familiar.
* From Trauma and Memory: Brain and Body In a Search for the Living Past by Peter A. Levine, PhD
---
CONTRIBUTOR BIO
Anh-Hoa Thi Nguyen is a poet, community artist, activist and educator. She holds an MFA in Creative Writing from Mills College in Oakland, California where she was awarded the Mary Merrit Henry Prize in Poetry and the Ardella Mills Literary Composition Prize in Creative Non-Fiction. In addition to literary journals and magazines, her publications include AS IS: A Collection of Visual and Literary Works by Vietnamese American Artists and Troubling Borders, An Anthology of Art and Literature by Southeast Asian Women in the Diaspora. Anh-Hoa has been a working board member of the Asian American Women Artists Association (AAWAA) and a creative member of the Vietnamese Artists Collective. Anh-Hoa is the founder of Pomelo Press, and creates self-published and hand bound artists books. She has been an Artist-in-Residence at the de Young Museum and Writer-in-Residence at Hedgebrook. Anh-Hoa is a Voices of Our Nation Arts Foundation (VONA) alumna, Elizabeth George Foundation Fellow, and a Minnesota State Arts Board Artist Initiative Grant winner. She is a scholar for the Minnesota Humanities Center working collaboratively with their "War and Memory" Conversation Series and MN Remembers Vietnam program, and is a presenter for the PBS/MELSA library series called "The Vietnam War: 360." Anh-Hoa is currently the artist-in-residence for The Floating Library 2018 and is a Lecturer at St. Catherine University.