What happened in February 2013: news and events relating to Vietnamese at home and in the diaspora.
Okay, folks, for those of you who celebrated Valentine and didn't get what you wanted from your sweetheart, don't fret about it. Love isn't all that great, especially, when it comes in the form of American chocolates. Just go buy yourself some Belgian chocolates; you won't regret it like the way you regret your last love. Anyway, get over your disappointment and read some diasporic news below.
[It's time for our second subscriber drive. We're looking for 100 new subscribers for diaCRITICS, and we'll be giving away prizes to the 25th, 50th, 75th, and 100th new subscribers. Read more details.]
---
Viet Kieu in the news
---
•
The 2013 Vietnamese International Film Festival launched on March 1. The Festival runs April 4-7 and April 11-14.
---
•
Professor Thuy Vo Dang, the researcher/project coordinator for the Vietnamese American Oral History Project (VAOHP) at the University of California, Irvine, talked about preserving the Vietnamese American experience. See Professor Dang in an interesting video interview done in January 2013. [OCR, WT] [Photo by Ana Venegas/OCR]
---
•
Oakland Police falsely imprisoned Chau Van. He's suing them. See Van and his lawyers at a press conference. This could happen to any of us, but factoring in the anti-Asian sentiment in many communities in the U.S. the probability may be higher for Asian Americans. [SFG, YN, CNS, HP]

•
Bao Nguyen is a person whose passion is "to do what's right and criticize what's wrong." I admired him when I saw him on the Public Broadcast Service documentary a few years ago. Nguyen continues to be inspirational. Dude, you rock! [Photo: John Gilhooley]
---
•
Vietnamese Canadian Kim Nguyen's "War Witch" was one of the five nominees for the Oscar for best foreign-language film. [IW, TS, TGAM, TDB, THR, FM, NYT]
---
• Two funeral insurance scammers in the San Jose Vietnamese community are sentenced. Taking advantage of our senior citizens is just plain despicable.
---
•
"Misplaced" money from the Orange County Vietnamese-American community is finally delivered to New York government officials to help victims of hurricane Sandy. [Photo: Steven Georges]
---
• A Long Island luxury shopping outlet pictorially misuses Vietnamese people.
---
•
This is a hot story about a rooster and David Tran. Okay, so it's really about the founder of the Rooster-brand hot sauce. [Right photo: Nathanael Turner]
---
•
Overseas Vietnamese students have been collecting books for children in rural areas of Vietnam.
---
•
The play "Hà Nội mùa Giáng Sinh" (Christmas in Hanoi) by East West Players won the Future Playwriting Competition. One of the main actors in the play is Long Nguyễn, who played the lead role in Ham Tran's 2006 film, "Journey from the Fall" (Vượt Sóng). [Photo: East West Players]
---
•
Kim Phuc, an emblem of human suffering during the Vietnam War, chooses forgiveness.
---
• Orange County physician Dr. Van Vu is under investigation related to drug deaths of 16 fatal overdoses.
---
•
Vietnamese LGBT members were sidelined from the 2013 Tet parade in Westminster; nevertheless, many people in the parade overwhelmingly supported their presence. [OCR, HP, OCR]
---
•
Thang Dinh Tran's map collections may be used in the territorial dispute between Vietnam and China. [Photo: Ann Hermes]
---
•
A story of how two Vietnamese-American lawyers worked towards a mutual contract. [Photo: Matt Roth]
---
• The U.S. Marines wants to train in Vietnam.
---
News about Vietnam
---
•
Phi Tien Son's film, Dam Me (Desire), will be competing among twelve international films at the Francophone Film Festival in Hanoi.
---
•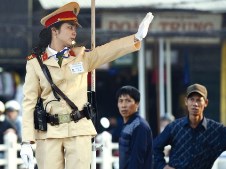 The Hanoi police department is taking drastic measures to change its image of being the "most corrupt" organization in Vietnam. [BBC, Time]
---
•
This temple in Hung Yen province has over 100 ancient soil-made Buddha statues that are hundreds of years old.
---
•
More unexploded U.S. bombs and mines have been found in central Vietnam. Approximately 100,000 have killed or wounded by these UXOs since 1975. U.S. atrocities continue.
---
•
The Department of Performing Arts under the Ministry of Culture, Sports, and Tourism has banned six U.S.-based Vietnamese artists from performing in Vietnam due to their appearances in the politically divisive Asia DVD series.
---
• The government's solicitation for constitutional reforms was met with various and "rare open criticism[s]." [ RFA, Bloomberg, VN, VN]
---
•
First, China claimed Vietnam's and surrounding countries' territories as theirs, then they sent their UFOs all over our skies, and now they are poisoning our land with strange seeds.
---
•
Vietnam has filed a dossier to UNESCO to recognize 'Don Ca Tai Tu' as an intangible cultural heritage.
---
•
Photographer Maika Elan (Nguyen Thanh Hai) won first prize in the Contemporary Issues Stories category of the 2012 World Press Photo Contest for her "The Pink Choice" collection.
---
•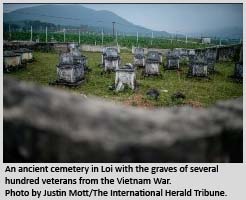 In one village, the after effects of war made widowers redefine long-held social-cultural norms.
---
•
Da Nang monk Thich Tu Nghiem hopes his collection of over 200 Buddhist statues made from wood, silver, brass and even ox horn will "help younger generations explore the centuries-old culture and history of Buddhism."
---
•
Hat Xoan, a traditional style of ritual folk singing, is being revived and passed down to younger generations.
---
•
In early February, the Vietnamese government continued its campaign against dissidents and sentenced more pro-democracy activists to jail. [LAT]
---
• In one of its torturous tactics to curtail dissidents, Vietnamese authorities arrested blogger Le Anh Hung and placed him in a mental institution. Le was released 12 days later. [IFX, OMCT]
---
• Surprisingly, Vietnam freed a U.S.-trained human rights lawyer Le Cong Dinh, who had been in jail since 2010.
---
•
A petition by Nguyen Van Hai, a Vietnamese prominent jailed blogger, was smuggled out by the recently freed Vietnamese-American pro-democracy activist Nguyen Quoc Quan.
---
•
In a sign of progress, Vietnam allowed Amnesty International officials access to jailed dissidents.
---
•
Trung Nguyen Group Corp., Vietnam's biggest coffee retailer, will open shops in Seattle, New York and Boston. The company will face insurmountable obstacles given Americans' aversion to foreign-name products.
---
•
See photos of the first Starbucks coffee shop in Vietnam.
---
• Officials find it "boring" when they have to repeat "the same cliches for almost every delegation."
---
Other News
---
•
A new fast method has been developed to test for leprosy before its symptoms manifest in those infected. Please help our people in poor rural areas; if we don't no one will. Read the pamphlet from Friends of Lepers in Vietnam and an article about Vietnam's forgotten victims of leprosy. [MNW]
---
• List of non-governmental organizations in Vietnam from Wikipedia.
---
• The first case of a so-called "functional cure" in an HIV-infected infant may help pave the way to eliminating HIV infection in children. [NYT]
---
• 2012 Well-Being Index State Rankings
---
• China has consistently rejected international legal arbitration because the imperialist regime knows it "does not have a strong case."
---
• "Richard Nixon . . . not just criminal, but treasonous too."
---
[Special thanks to Viet Thanh Nguyen for providing many of the news items.]