diaCRITIC and Poet Kim-An Lieberman passes away.
We learned with shock and sadness last month that diaCRITIC Kim-An Lieberman  passed away on December 8th, after a battle with cancer. She was a kind and gentle soul, a graceful poet, and a dedicated teacher and mother.
Her first collection of poetry, Breaking the Map, received wide praise. Samuel Green, Washington State's poet laureate, said that the book was "a wonderful first collection…This is a geography that demands attention." Shawn Wong, author of American Knees and Homebase, wrote that "…whatever forty-year-old image we might still remember from Vietnam or America that is part real and part television, she makes whole, new, and vibrant. She makes us a witness more than reader."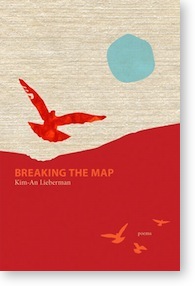 Kim-An's writings for diaCRITICS can be found here, where she gives us interviews with Bao Phi, Dao Strom, and Andrea Nguyen, and reviews some of the latest works in Vietnamese American literature.
We look forward very much to reading In Orbit, her second collection of poems, available from Blue Begonia Press in mid-January 2014.
In lieu of flowers the family requests donations be made to the Kim-An Lieberman Memorial fund at The Evergreen School to offer financial aid for students in need. Visit KALscholarship.com to donate.
Following is an obituary from the Seattle Times:
Kim-An Lieberman, gifted poet and teacher, passed away on December 8th from gastric cancer. She was diagnosed in 2011 at the age of 37. She is preceded in death by her father, Frederic Lieberman, and survived by her husband, Matthew Williams, her mother, Kim Nguyen, her siblings, Quyen Hamilton, Dan Lieberman and Bryna Lieberman, and her children, Cassia, Kellan and Mireya.
Born in 1974 to parents of Vietnamese and Jewish heritage, Kim-An was raised in Seattle and attended the The Evergreen School. At Shorecrest High School, she maintained a perfect grade point average and perfect attendance. While she was admitted to every university to which she applied, Kim-An ultimately chose the University of Washington; as a Washington Scholar, her education was fully paid for, an honor achieved by only a tiny fraction of students in the entire state. She graduated at the top of her class and was subsequently awarded a Mellon Fellowship for the Humanities. She received her Ph.D. in English from the University of California, Berkeley, with an emphasis in Vietnamese-American literature.
Kim-An was an accomplished poet, writing works of heartbreaking precision and insight. Her essays and poems appeared in numerous anthologies and literary journals such as Poetry Northwest, ZYZZYVA and The Threepenny Review. In 2008, she won the Blue Begonia Press First Book Award, leading to her debut book of poetry, Breaking the Map. Among other honors, Kim-An was shortlisted for a Stranger Genius Award for Literature in 2009 and became a member of the Jack Straw Writers Program. At the time of her death, her second book, In Orbit, was in the process of being published, also by Blue Begonia Press.
Brilliant and disciplined, Kim-An was multilingual, fluent in English, Vietnamese and French, and a skilled pianist. She stayed close to her Vietnamese and Jewish roots, exploring and articulating issues of identity in her writing and teaching. Committed to education, she taught kids of many ages in varied settings, from inner-city Dayton, Ohio, to Seattle's renowned Lakeside School, where she was a faculty member in the English department.
She was also an ardent advocate for the environment and for animals. And though she had an encyclopedic knowledge of Seattle-especially of where and what to eat-her happiest moments were at home, surrounded by the family and children she adored, with a cat or two nestled in her lap. She inspired us with her resilience and humor, even in the darkest hours of her illness. We will never forget her: the strongest spirit, the finest mind, the largest heart.
I stretch my arms into sweeping water
and the tide beats through me.
My most beautiful thing. My ocean.
My boundaries. My edge of the world.
I have come this distance
to see the sun unravel
in strands of orange.
I have come this distance
to know, if it can be known,
what melts into shadow
and what persists.
("Calligraphy," Kim-An Lieberman)