The past several days has hosted a veritable media explosion (of sorts) after "Marky Mark" Wahlberg's appeal for an official state pardon for his felonious 1988 assault conviction. So here diaCRITIC Julie Thi Underhill, an occasional managing editor, reflects on Wahlberg's rise to fame as rapper, actor, and media mogul after his anti-Vietnamese hate crimes committed in Boston, in the city's largest neighborhood of Dorchester, as a teenager. As the US is also simultaneously rocked by protests over police brutality against people of color, Underhill examines the timing of Wahlberg's bid to wipe his criminal record, given that he is purportedly seeking an add-on career in law enforcement, despite his $200-million success as an actor and producer. Underhill also more broadly poses questions about the nature of justice and restitution for those #CrimingWhileWhite. This diaCRITICIZE follows editor Viet Thanh Nguyen's recent reflections on how Ferguson and racial hierarchies affect the Vietnamese-American community.
A few years ago, I was quite shocked to learn about anti-Vietnamese violence committed during the 1980s by someone who had already been in a famous boy band (as a founding member of New Kids On The Block) and who went on to become an extraordinarily successful and wealthy Hollywood producer and actor. I mean, how did I miss that violence, as someone whose mother emigrated from the country he was denigrating? It was spring of 1988. Was it because I had just returned from foster care and my father was seething with rage, so couldn't ask him for a trip to the magazine section of our suburban Oklahoma grocery store? Even if he had been feeling generous, would Bop, my go-to news source for pop culture at age 11, have ever revealed a hate crime? Would even have Sassy, founded the previous month, and soon to become my favorite teen reading? Yet how could this hate crime shit be erased from public memory so easily? What else besides white supremacy could make that erasure possible? For years after that the story lay somewhat dormant, perhaps best known in activist circles and by those who remember when the story broke, but it goes a little something like this. After joining a street gang at age 14 and then harassing "niggers" to get out of his 'hood, by throwing rocks at the heads of African-American elementary schoolchildren at age 15, Mark Wahlberg was involved in two separate sequences of violence against Vietnamese-American men when he was 16 years old. On April 8, 1988, Wahlberg attacked Thanh Lam of Dorchester, Massachusetts, in an attempt to steal two cases of beer, calling Lam a "Vietnam fucking shit" while hitting him over the head with a 5-foot stick, breaking the stick into two and knocking Lam unconscious just outside of a convenience store. Wahlberg then fled with friends and ran into another Vietnamese-American man, who he faux-befriended, putting his arm around Hoa Trinh's shoulder, urging, "Police coming, police coming, let me hide." Yet after a police cruiser passed them, Wahlberg punched Trinh in the eye, knocking him to the ground. When police arrived, Trinh identified Wahlberg, who made unsolicited racial statements about "slant-eyed gooks" during his arrest. Once he returned to the scene of the first crime, he told the cops, "You don't have to let him identify me, I'll tell you now that's the motherfucker whose head I split open." The teenage assailant was then charged with attempted murder in court, yet pleaded guilty to assault and only served 45 days of a two-year sentence in Suffolk County Deer Island House of Correction. Although both assaulted men were treated that night at the hospital, according to various sources Trinh was permanently blinded in one of his "slant" eyes as a result of Wahlberg's attack. However, to this day, Wahlberg has denied that his hateful attacks on the "Vietnam fucking shit" and "slant-eyed gooks" were race related, although evidence clearly points to the contrary—
When I first learned about these attacks, through which Mark Wahlberg openly profiled and assaulted two men for being Vietnamese, I was astonished that these incidents of racial violence had been swept under the rug and that someone who'd committed such vicious hate crimes had been allowed to become a superfamous star immediately after serving time (albeit too briefly) for assault. As a child of the '80s in the US, I first remember Mark Wahlberg as the frontman of his hip-hop group Marky Mark and the Funky Bunch, after Donnie (of more prominent New Kids On The Block fame) got his brother more heavily into the music scene at age 18. As mentioned before, Mark had debuted with NKOTB at age 13 and resumed it after his first incidents of hate crimes, but later left the teen-mag-pin-up boy band for something more edgy. Marky Mark's hip-hop group had just one hit song, Good Vibrations, in 1991. Through his tough-guy image, he marketed himself as a hardscrabble-white-rapper-with-cut-pecs from a rough neighborhood near Boston, who really liked to drop his pants onstage. Despite his success in music, he continued to act violently against those who do not belong in his 'hood, and was later accused of breaking a neighbor's jaw without provocation, in a civil suit in 1993. Even so, Wahlberg became a Calvin Klein model and then a well-known actor. Dropping his pants again, he performed as porn star Dirk Diggler in Boogie Nights in 1997, following up that infamous prosthetic penis scene at the end of the film with acting roles in The Perfect Storm, The Departed, Lone Survivor, The Fighter, and many other films. More recently, Transformers: Age of Extinction was one of this year's top grossing movies. Wahlberg is now one of Hollywood's richest producers, with his smuggling thriller Contraband following the success of his films and his three HBO series. Commanding at least $12 million per movie, today Wahlberg's net worth at age 43 is $200 million. Despite this monumental wealth, he's also got a rapidly expanding business portfolio, with stakes in a water company and also his brother's burger joint, Wahlburgers, which has its own reality show on A&E.
My sense of astonishment that Mark Wahlberg could be encouraged to grow mind-numbingly wealthy after racially motivated hate attacks went all the way up to 11, in Spinal Tap terms, after learning today all the reasons why these incidents are suddenly coming to light again nearly 27 years after they happened. Of course, critics have mentioned the attacks along the way, including an infamous South Park episode, Planet of the Apes, during which Walhberg's caricature explains, "White people have long known of the magical powers of the Vietnamese. For instance, we've understood that, if you beat them up, they grant you wishes, such as an Academy Award. Knowing this, I never made any attempt to compensate the Vietnamese man that I blinded, because I assumed that Vietnamese people could grow back a missing limb or eyeball if they needed to. After all, they're magic, like lizards." So not everyone has forgotten, obviously, if Wahlberg's racist violence is subject to such cutting parody. But something's happening now, by choice of Wahlberg, that forces his 1988 conviction back into the limelight. Ostensibly Wahlberg's business interest in expanding the Wahlburgers chain is being named as one motivating factor for his recent appeal for an official pardon by Governor Deval Patrick. This petition was submitted on November 26, 2014, to the Massachusetts Board of Pardons, and it's freely available online at CNN. In his pardon petition, Wahlberg hopes to get his criminal record erased because he's dedicated himself "to becoming a better person and citizen" through various philanthropic endeavors, and by going to church nearly every day, as a devout Catholic. However, the pardon petition states that his felony is currently preventing him from pursuing further business ventures in his brother's Wahlburgers chain. The family had recently announced plans to open 27 more locations, and so Wahlberg wants a concessionaire license. From his petition submitted on Nov 26—
Wahlberg's desire to get a pardon in order to make even more money than his current net worth of $200 million smacks of a certain kind of privilege—to have one's criminal history not just ignored (which had already been happening) but fully expunged, and not just to get a job, which tends to be a concern for many released prisoners, but in order to increase one's wealth, despite having already proven one's self through a variety of civic engagements and through a staggering amount of fame and money. Hollywood certainly hasn't held him responsible for his past by preventing him from getting ahead in his various professions. Yet Wahlberg seems to need his felony overturned so that he can make even more money as an entrepreneur. That said, he also claims that his assault record being overturned would set a good example to troubled youth, who would see it as "an inspiration and motivation" to turn their lives around. Yet this logic is spotty at best, since he's become wealthy and famous without a pardon for his crimes, which already demonstrates that the checkered pasts of troubled youth won't necessarily hold them back. Even so, it is important to allow for the re-enfranchisement of formerly incarcerated people, and to seek ways for restorative justice to play out. Perhaps his desire to set a good example to at-risk youth is, for him, some way of restorative justice, even as that logic smells like benevolent paternalism designed to morally mask his own self-interest. On the other hand, in Wahlberg's pardon petition, he also clearly mentions the desire to pursue a career in law enforcement, as a parole or probation officer—
That said, the fact that Mark Wahlberg is seeking a pardon of his racially motivated hate crimes at this particular moment has left many critics and commentators aghast, amidst unrest in cities around the globe following the deaths of Eric Garner and Michael Brown. Both deaths have been attributed to anti-African-American sentiment on the part of the officers involved, fueled by centuries of an entrenched racial hierarchy in the US which has positioned African-Americans on the "bottom" rung of society, after this country's wealth was built by black slaves forced to work for Euro-American slavemasters. Along these lines, both cases have failed to indict the officers responsible, resulting in protests across the US—including right now in my town of Berkeley—and calls for reform of the criminal system. At this historic moment, there have been tremendous acts of solidarity from movie stars, professional athletes, and other celebrities. Even country music singer Garth Brooks cancelled his Tonight Show appearance because self-promotion "seemed distasteful" after the grand jury refused to indict Darren Wilson for Michael Brown's death in Ferguson, Missouri, resulting in civil unrest across the nation. So Wahlberg's decision to request a pardon for his hate crimes against Vietnamese-American men, in order to seek a career in law enforcement at this extremely tense moment, seems particularly ill-advised, if not completely callous to his victims, to the broader Vietnamese-American community, and to the demonstrators and protesters already infuriated over the abortions of justice which have followed not only the many incidents of racially-motivated killings by cops but also what's been hashtagged as #CrimingWhileWhite. This newly-named centuries-old US institution is the racial double standard that allows white European-Americans in the US (and those perceived as such) to be exonerated for committing crimes while people of color are disproportionately profiled, targeted, and incarcerated, even for crimes they did not commit. Consider the storyline of Harper Lee's brilliant and groundbreaking novel To Kill A Mockingbird, which won the Pulitzer in 1960, as a chilling example of how art imitates life. Yet #CrimingWhileWhite is made even more complicated when it's law enforcement committing the crimes, and therefore exonerated by a system that sees white police officers as doubly innocent—for being white, for being in uniform—even when committing hate crimes, rape, manslaughter, and murder.
Unlike the largely hushed-and-brushed-under-the-rug memory hole of the first 27 years, however, the response to Mark Wahlberg's pardon petition has generated an immense buzz in news reports in recent days, including significant coverage in The Boston Globe, who ran it as front page news with a cautionary note about forgiveness not being automatic—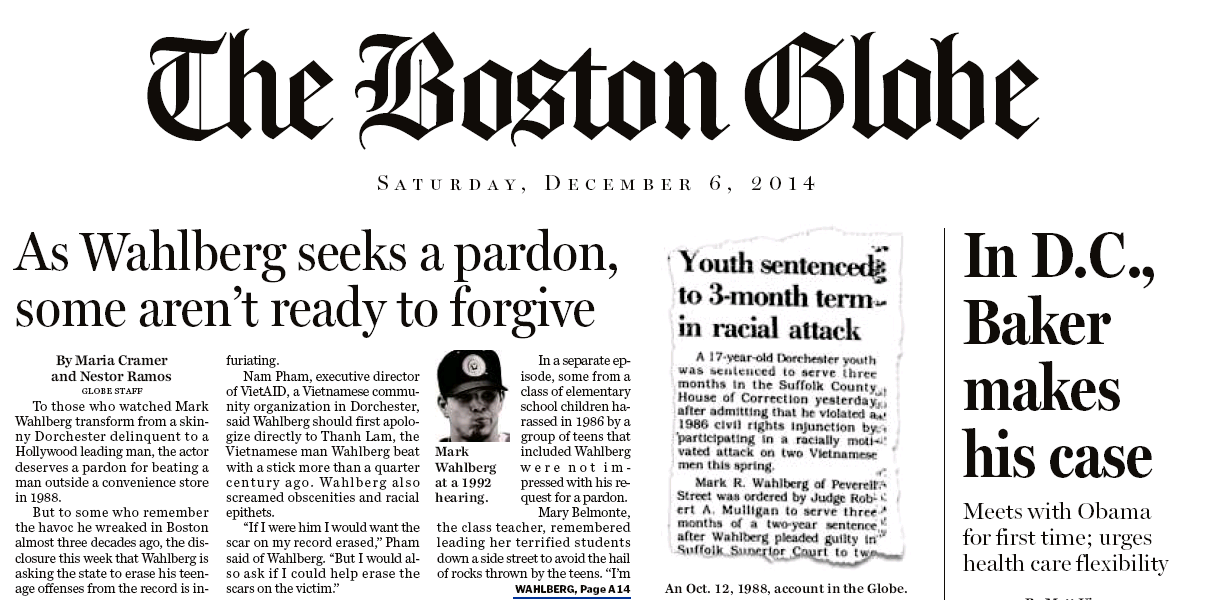 Many commentators seem to view Wahlberg's efforts through a lens of cynicism, openly contesting that he should receive a pardon, even if many of the critics don't appear to acknowledge his desire to become an officer of law. Some critique the logic that Wahlberg's pardon would actually help at-risk youth turn their lives around. As Marc Ambinder wrote on December 5, as TheWeek.com's editor-at-large, "Is a young person not going to commit a crime they'd otherwise commit because Wahlberg got his own criminal record expunged? Or would a young person be less likely to commit a crime, (supposing, by the way, that they look to Wahlberg as the arbiter of their ethics) if they knew that even if they managed to overcome obstacles and become successful later in life, they could not get pardoned?" On the same day, Daniel D'Addario commented in Time that "to petition for a pardon pushes his redemption narrative beyond sense. Turning over a new leaf is one thing; declaring that crimes effectively did not happen is quite another." D'Addario adds that "people without a major public profile could never expect to receive similar absolution from the state. Wahlberg is special, in that he is one of his generation's best-known and -loved movie stars. He's not so special that he is entitled to have his past officially erased." Also on December 5, the blog Angry Asian Man echoed D'Addario's sentiments about Wahlberg's sense of entitlement. "Wahlberg has clearly turned his life around a hundred times over. How about owning up to your past, claiming your mistakes and living with the consequences? And then make good on your supposed redemption. You don't get to erase the ugly shit you used to do because you're friggin' famous." It isn't just the rich-and-famous aspect that pushes Wahlberg into the realm of #CrimingWhileWhite, however. "Marky Mark Wahlberg's racist past should not be pardoned," advised the editor of The Blackstonian, Jamarhl Crawford. "To pardon Wahlberg would be another affirmation that the rich and the famous are treated differently from 'regular' people. Wahlberg has never publicly acknowledged the particular racist element of his crimes." For these commentators and others, a pardon would not be in the best interests of anyone except Wahlberg, who doesn't appear to deserve another break, in their point of view.
For the Vietnamese-American community, this conversation potentially opens up old wounds, as it's reminiscent of other incidents of racial hatred against the Vietnamese, as we've not always been accepted into the national fabric of a country whose anti-Asian sentiments originate in the 19th century, with a great deal of mob violence, ethnic cleansing, and purges along the way. Some chronological incidents of anti-Vietnamese hatred after our  arrival to the US as refugees from war, detailed by Isabelle Thuy Pelaud in her book This Is All I Choose To Tell, include the arson-burning of Vietnamese-American fishing boats in the Gulf Coast in the 1980s; the harassment of Vietnamese Buddhists in Oklahoma in 1982; Patrick Purdy's 1989 mass shooting of Vietnamese and Cambodian schoolchildren at Cleveland Elementary School in Stockton, California; the murder of Thien Minh Ly in 1996; and the 2003 killing of Cau Thi Bich Tran by a police officer in San Jose, California. This list does not include the more pedestrian incidents of being called a gook or a chink, or hearing Me love you long time! or Me so horny! shouted from a moving vehicle of frat boys or even by "ha ha just kidding" friends, or having one's "right" to "be here" questioned by Euro-Americans, and other reminders of our non-belonging. Wahlberg joins a repertoire of others who've reminded us that we're not fully welcome by everyone in our country of asylum. Although Wahlberg has accepted public responsibility for his actions in court documents, he's never directly acknowledged the racial nature of his slurs and attacks, an act which would serve as an important first step in owning his crimes as racially motivated. Nor has he directly apologized to his victims besides his day in court almost 30 years ago when he was seeking a lighter sentence, after many previous performances of courtroom contriteness in order to get off the hook, according to his priest. In addition, in a 2006 interview with CBS, Wahlberg claimed to not feel guilt over the wrongdoings of his past, despite not having directly offered any form of direct apology or restitution to his victims. In the interview, he told CBS, "You have to go and ask for forgiveness and it wasn't until I really started doing good and doing right, by other people as well as myself, that I really started to feel that guilt go away." He continued, "So I don't have a problem going to sleep at night. I feel good when I wake up in the morning." In another interview, he pretty much said the same thing, when he explained, "I've certainly asked forgiveness many times and we have a wonderful forgiving and compassionate God. But I can't hold on to all the stuff I've done in the past. I've got to look to the future." So instead of going to ask for forgiveness from his actual Vietnamese-American victims, it appears Wahlberg may have asked God for forgiveness, and started "doing good and doing right" in other capacities, all which alleviated his guilt about the past.
This juncture leaves us with some pressing questions about the actual beneficiaries of Wahlberg's good deeds, and the possibility that being a "better person" means dodging responsibility for the pain caused by one's actions, through appealing to a deity for forgiveness. Is the guilt of human reciprocity avoided when you can avoid looking the pain of mortal men in the eye? What about his negative impact upon the lives of Thanh Lam and Hoa Trinh, whom he's had no contact with? How have they been afflicted not only by the hate crimes committed against them by a xenophobic white teenager in their neighborhood, but also by watching the meteoric rise-to-fame-and-wealth by that same young man? To what extent is Wahlberg's ostentatious success already an exoneration of the severity of his crimes against them? What does restitution and justice look like, 27 years after the fact, when a pardon is sought not to alleviate the pain and damage to the victims, but primarily to enable even more opportunities for the $200-millionaire? Although Lam and Trinh have not been reached for comment and have not issued any public statements, one of the African-American schoolchildren Wahlberg called "nigger" and hit in the head with rocks certainly remembers her own situation. The state's attorney general's civil complaint against Wahlberg and his friends was dismissed the year after the 1986 incident involving the elementary school children. Yet having survived this event at age 9, Kristyn Atwood, now 38 and living in Georgia, recently told The Boston Globe: "When people talk about racism in Boston, I always remember that." Atwood doesn't think Wahlberg's current pardon petition should be granted. "For him to try to get it overturned and make it seem like it never happened? I don't think that's fair," she commented. The organization VietAID recommends an apology to the victims and restitution in the form of an annual grant to their organization, which serves the Vietnamese-American community in Dorchester. Explains Nam Pham, executive director of VietAID, "If I were him I would want the scar on my record erased. But I would also ask if I could help erase the scars on the victim." Although an annual grant to a community organization and a direct apology could be a step in the right direction, even these notions of restitution may not be what will best serve Wahlberg's actual victims, who have yet to come forward, who may have even moved from the area. For one, the interrelationship between justice and healing is often fraught with tension, whether in a court of law, at a national monument, or in a ceremony of apology. When are communal, symbolic, or financial reparations enough, after a hate crime against an individual? What is enough? Enough for what? Only Lam and Trinh can answer. In addition, even if these men received an apology, would there be a particular onus placed on them to forgive—even if it's not where they're at—in order to grant Wahlberg a moral pardon, one that's being watched by millions of people? How might this possible burden to publicly forgive deny Lam and Trinh their own subjective responses, perhaps even their own dignity, amidst expectations for a positive outcome for Wahlberg? Would this indeed "erase" their scars, or re-open old wounds?
Given the stakes of their involvement, and the legions of racist Wahlberg fans who've already made themselves known on message boards and in comments threads, the Lam and Trinh families may choose to keep a low profile, even if they're following the news. Perhaps they've already forgiven and morally pardoned Wahlberg, and moved on, so their involvement in this conversation or distress about the matter would be a moot point. On the other hand, it's possible that an official pardon of Wahlberg by the State could send a message to Wahlberg's victims (and their loved ones and supporters) that in the US, if you're white and rich enough, it is possible to buy yourself a clean slate after committing vicious hate crimes against people of color. To the contrary, getting off the hook that way is certainly rare for people of color. Indeed, some back Wahlberg's pardon appeal only if such a possibility is also extended to people of color, rather than differentially. Along these lines, Danielle C. Belton recommends, "Don't pardon Mark Wahlberg because he's Mark Wahlberg. Pardon him and other people who've paid their debts to society because these individuals still have to live among us. They're still people, including those African Americans with felonies." Her recommendation leaves us with the phenomenon of #CrimingWhileWhite, which calls forth the necessary critique of unequal treatment of whites and minorities, under the law in the US. About this differential treatment, Lisa Johnson writes, "I recently read an article about a black man who spent decades in prison for a crime that he did not commit. That was just one article, but it is story that has been repeated over and over." She compares this phenomenon to Wahlberg. "Apparently Wahlberg thinks it was perfectly fair that he only served 45 days in jail for his crimes. If he had been black would he have received that kind of sentence? I really don't think so…. To ask for a pardon seems like a lot for me. He basically got a pardon with just 45 days in jail. Others would have served years, maybe decades or life. Wahlberg was able to enjoy his youth, his freedom and become the best version of himself. He received a valuable gift." Although Wahlberg's petition may well fall on sympathetic ears who don't believe he's already been "gifted" enough after #CrimingWhileWhite, his exoneration is yet to be decided. The Massachusetts Board of Pardons must still investigate then recommend the pardon to the governor, who will likely be Massachusetts Governor-elect Charlie Baker, a Republican. If Baker approves, so must the state's Governor's Council.
Meanwhile, Massachusetts resident Sarah Francis has started an online petition for Wahlberg's pardon be withdrawn or declined due to the violent and racially inflammatory aspects of his hate crimes. She notes in the petition that "[u]nder the present racial climate in this country this petition for pardon is both out of touch with the fair and procedural workings of our political justice system and if passed, at the present time presents a dangerous hindrance to the building of community connections both racially and economically in the city of Boston." As a fellow member of the Boston community, her sense of urgency is all the more poignant. She continues, "Though Mr. Walhberg's petition is most likely to fail, pardons involving acts of violence are typically rare, I would like to raise awareness of the petition and to ensure at this time that a pardon is not granted." Perhaps the hope of a non-pardon will be made all the more pressing due to Wahlberg's apparent desire to join law enforcement, despite his past history of harassing and assaulting African-American schoolchildren in 1987, two Vietnamese-American men in 1988, and later his neighbor in 1993, even after his release from the correctional facility and after Marky Mark had made it big. Sure, celebrities should set a better example than that. Yet, more importantly, we need compassionate law enforcement (even parole and probation officers) with no known history of unprovoked hatred or violence against ethnic/racial minorities, women, LGBTQ folks, poor people, disabled people, or against anyone for that matter, due to the high position of power granted to those in law enforcement, and due to their likely exoneration if their power is abused through unprovoked violence. People of color are far more likely to be profiled and killed by cops than are Euro-Americans, as the #CrimingWhileWhite hashtag reminds us, accompanied by #HandsUpDontShoot and #ICantBreathe. On the third night of anti-police brutality protests in my town of Berkeley in the wake of Michael Brown's and Eric Garner's senseless killings, on the third night of continuous retaliatory violence against protesters of every color, as I hear right now the incessant whine of sirens and the staccato of media helicopters on their way to the action on Highway I-80, I believe even more strongly in that call for law enforcement with no known history of violence.
As a nation, we're clearly at another historic moment, another notch in the timeline of examining racism in US society. It's apparent that in this moment, as during the Civil Rights movement of the 20th century, some white people view racism as a problem to be addressed only by people of color, and therefore feel disconnected from the claims made during these protests against the failure to indict police officers for the killings of two black men. Some readers might also assume that I'm critiquing Wahlberg simply because I hold an empathetic connection to Wahlberg's victims. Because we always react when our own people are attacked. Although I am identified with the Viet community, since my mother is a Chăm-French refugee from the former Republic of South Việt Nam, my identity is more complex because I am largely Euro-American—French on my mother's side, and Scottish-Irish-American, on my father's side. I'm actually 75% white, if you're into the whole blood quantum thing. I spent years living in my white father's home and in white foster homes, where I was the only person of color, if even in part. By this point, many of my friends, relatives, significant others, coworkers, bosses, instructors, classmates, and neighbors have been white, not exclusively but notably. And of course, since the entertainment mega-industry caters to whites and whiteness, white people have flooded movie screens, TV shows, and airwaves my entire life. As a mostly-white American quite connected to white American society, and to scores of white people I respect and love, I feel even more of a responsibility to examine the pernicious effects of white racism against people of color, and to not let things like fame and money get in the way of holding well-known and wealthy white Americans accountable for their racism. Why should exceptions for accountability be made, other than to maintain white supremacy and class privilege, at the expense of others? White Americans of all class backgrounds must be willing to examine how racism asserts itself socially, politically, legally, historically, educationally, psychologically, and violently, and in the tense and tender ties European-Americans hold with communities of color. If we want things to get better around here, we must be willing to call our acts "racist" when they, indeed, are. And if we're prone to hatred and violence against people of color, even if we tend to keep it in control by going to church every day, we should prevent ourselves from seeking positions of explicit power, especially where we'd be dealing with communities of color on a frequent basis—even if God forgives us, without fail, every time we trip up.
At the same time, as someone from a community of color— the broader constituency known as Vietnamese-American but also multiethnic in composition, as my Chăm heritage demonstrates—I also believe that racism must be examined and challenged. Not only the more obvious ghost in the house of the United States, white racism and its subsequent hierarchies of power, but also the racism that Asian Americans hold, amongst ourselves as intraethnic tension, and against other communities of color, as a distancing tactic, in an effort of ascension. If you look down on someone else, you are therefore "above" them. At the same time, we also shouldn't be afraid to notice when racism hurts us and our communities, when others have looked down on us, or hurt us, to be "above" us. We shouldn't make excuses for it when that happens, because we want to be "grateful" to our host society rather than critical. At the same time, we shouldn't keep our heads down and not give a shit about #BlackLivesMatter in an effort to be upwardly mobile, to pretend that those things can't possibly concern us because Asians are never targeted by police. Because then we'd be forgetting that many are. We'd be ignoring that an elderly Chinese immigrant is now suing NYPD for $5 million for assaulting him and giving him permanent brain damage, after he jaywalked this January in NYC and didn't speak English well enough for the police, as they negotiated his arrest. When Kang Chun Wong asked for his ID back in Cantonese, NYPD then threw the 84-year-old man against the wall, beat him, and tossed him to the ground, where he hit his head and blacked out. Bloodied and bruised, Wong was then arrested, and later hospitalized. For a while, the DA was trying to decide whether to prosecute him. Although I'd seen his case discussed via social media, his story is now circulating more heavily in the news, because of his $5M lawsuit, in the wake of Officer Pantaleo's chokehold killing of Eric Garner. Perhaps unsurprisingly, NYPD Commissioner William Bratton has said he isn't aware of any excessive force used by officers during the January 2014 arrest of Kang Chun Wong—
So the The past isn't dead. It isn't even past, as Faulkner says. In other words, the history of violence against Asian Americans should not be forgotten because it is here, right now, this year. Even so, I remember how in the same decade of the arson-burning of Vietnamese-American fishing boats in the Gulf Coast, the harassment of Vietnamese Buddhists in Oklahoma, Patrick Purdy's mass shooting of Vietnamese and Cambodian schoolchildren in Stockton, and Marky Mark's assaults of Thanh Lam and Hoa Trinh in Dorchester, my own mother was rounded up during an INS raid of our local Fiesta supermarket in Houston, Texas. My mother is ethnically Chăm and French, and looks hapa, or mixed-race Asian. She didn't have her green card on her during that trip to the grocery store. During INS processing she was informed she'd be deported to Mexico, along with everyone else without documents who'd been shopping that day in that large Hispanic grocery store, the best place in the area to go for good, cheap produce. Yet when my mother tried to convince the INS in heavily "Asian" accented English that she was from Việt Nam not Mexico, the agent snarled with his Texan drawl, "Lady, everyone says they're not from Mexico when we deport 'em!" In the end, she escaped deportation only because my stepfather, a white American man, showed up with her green card, to attest that she wasn't from Mexico, to claim her as belonging to him, to the nation. It became family lore as a good dark laugh, yet it also encapsulates the possibility that any person of color (even one who is "half white" like my mother, even one who is "seventy five percent white" like me) could end up in a situation beyond our control, where our marked "ethnic other"-ness could make us vulnerable to profiling, violence, and exclusion. We should discern our own through-line to the wider critiques of racism and white-on-color violence. And even though it's potentially painful to not feel fully interwoven into the social fabric of an asylum country, to recognize that one's own people are not fully included by everyone here, it's doubling the pain to pretend otherwise.
Do you agree or disagree with a pardon for Wahlberg? If you agree, should there be specific terms? If you disagree, why? What forms of justice are appropriate or desirable 27 years after a sequence of racially motivated hate crimes? What are the other stakes for #CrimingWhileWhite, and how do they affect the Vietnamese-American community? Add your comments below, to share your perspective on these pressing concerns.